SIHANOUKVILLE, CAMBODIA, DECEMBER 1, 2021— True to its theme of "Charting a New Decade of H.O.P.E. (Healthy Ocean, People and Economies), the 2021 East Asian Seas (EAS) Congress opened successfully onsite in Sihanoukville, Cambodia and virtually today, December 1. An atmosphere of optimism, determination and resilience following a challenging year due to the COVID-19 pandemic, marked the beginning of a two-day series of events and sessions that brought together various ocean stakeholders from 11 countries across the region.
The 2021 EAS Congress is a triennial event widely recognized as a platform for dialogue, knowledge exchange, strategic action, partnership building and cooperation in support of the region's common vision of sustainable development of the Seas of East Asia. The event was hosted by the Royal Government of Cambodia, and co-organized by the Ministry of Environment, Province of Preah Sihanouk, and Partnerships in Environmental Management for the Seas of East Asia (PEMSEA).
INAUGURATION OF PEMSEA NETWORK OF LEARNING CENTERS (PNLC)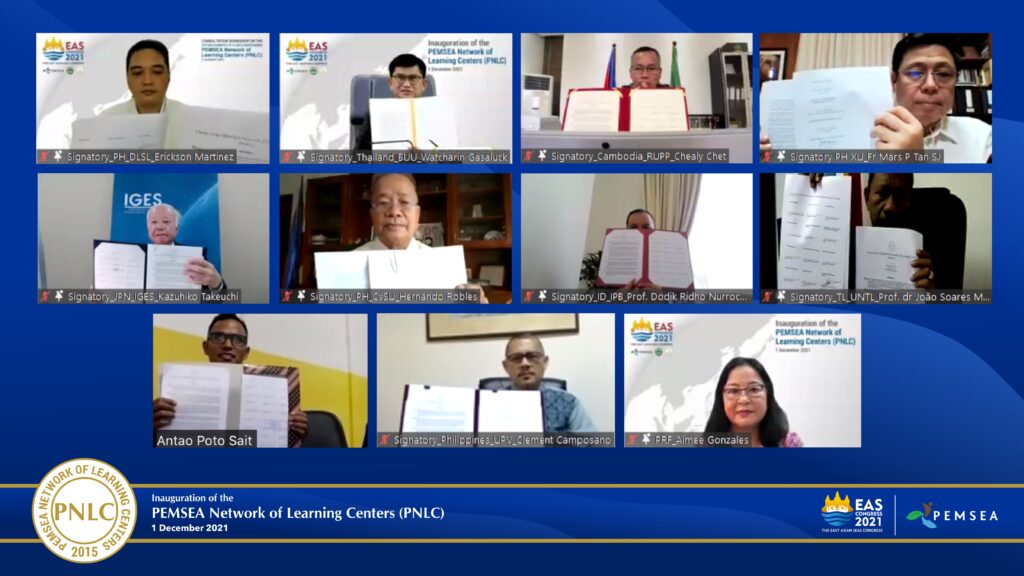 Kicking off Day 1 of the EAS Congress was the inauguration of the PEMSEA Network of Learning Centers (PNLC), and the approval of the network's Charter formalizing the PNLC. The PNLC Charter specifies the ground rules on membership; identifies joint activities and outputs amongst its members; and explores options for sustainability and funding support through voluntary member contributions or joint fundraising initiatives. The approval of the network's Charter also translates to the implementation of the PEMSEA Training and Capacity Development Plan for the next 5 years.
Signing the PNLC Charter during the event were Burapha University (BUU), Thailand; Cavite State University (CvSU), Philippines; De La Salle Lipa (DLSL), Philippines; Institute for Global Environmental Strategies (IGES), Japan; IPB University – Center for Coastal and Marine Resources Studies (IPB-CCMRS), Indonesia; Oriental University of Timor Leste (UNITAL), Timor-Leste; Royal University of Phnom Penh (RUPP), Cambodia; Universidade Nacional Timor Lorosa'e (UNTL), Timor-Leste; University of the Philippines Visayas (UPV), Philippines; and Xavier University – Ateneo de Cagayan (XU), Philippines.
Other universities who approved the PNLC Charter include Kim II Sung University (KISU), DPR Korea; Prince of Songkla University (PSU), Thailand; University of Da Nang, VietNam; and Xiamen University – Coastal and Ocean Management Institute (XMU-COMI), China.
In his Opening Remarks, Dr. Vann Monyneath, PEMSEA EAS Partnership Council Co-Chair, said that the signing of the PNLC Charter is a "very important first step in formalizing the network and promoting collaboration amongst its members." Dr. Wansuk Senanan, President of the PEMSEA Network of Learning Centers, acknowledged that the inauguration of the PNLC "reminds us we can achieve so much from working together." She also highlighted that the network's regional synergies provided extensive technical services supporting on-the-ground Integrated Coastal Management (ICM) projects and initiatives; as well as facilitating technology transfer and providing a platform for learning towards achieving SDG 14 (Life Below Water).
Dr. Jae Ryoung Oh, Chair of the Technical Session of the EAS Partnership Council, closed the session and provided the next steps for the PNLC which includes the conduct of a General Assembly by February 2022; and the call for nominations for PNLC Officers; drafting of PNLC Code of Conduct; drafting of the 5-year Operational Plan; and drafting of the 2023 work plan and budget.
Launched in 2015, the PNLC is a forum for information exchange, networking and sharing of expertise and experience on Integrated Coastal Management (ICM) across countries in the EAS region. The network is comprised of professionals and scientific experts from several universities and scientific institutes that include three PEMSEA Regional Centers of Excellence (RCOE) and ICM Learning Centers and 15 members across nine countries.
ANNUAL FORUM OF PEMSEA NETWORK OF LOCAL GOVERNMENTS (PNLG)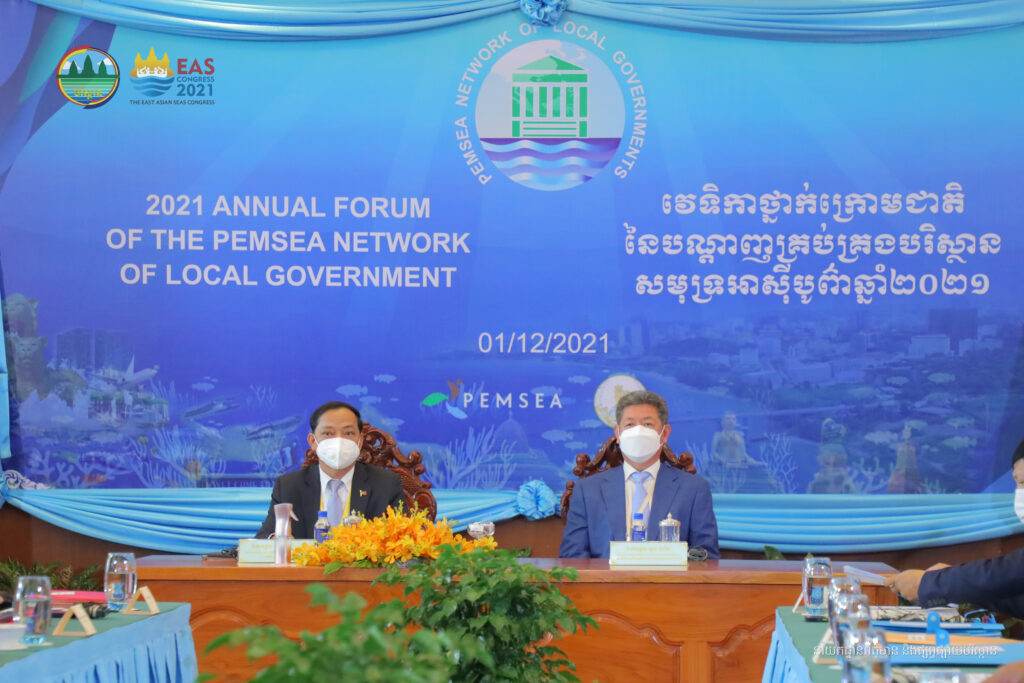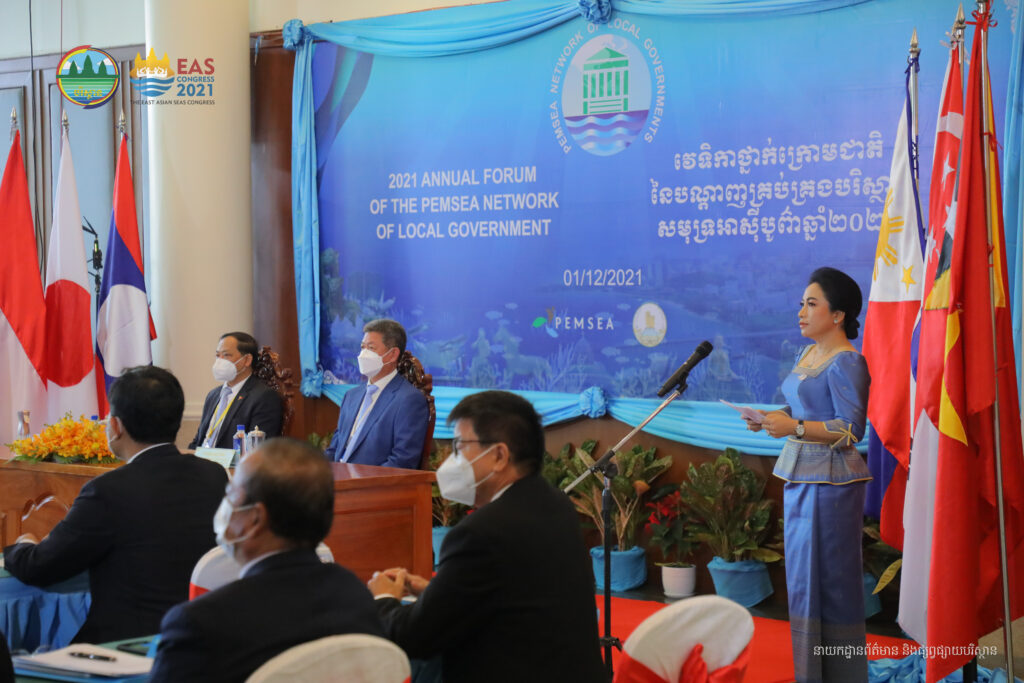 Immediately following the PNLC inauguration was the holding of the annual forum of the PEMSEA Network of Local Governments (PNLG). The PNLG is a self-sustaining network of local governments implementing ICM programs with a view to pursuing blue economy pathway. PNLG members led by current PNLG President Mdm. Noraini Binti Roslan were on hand to witness the signing and approval of the Preah Sihanouk PNLG Declaration adopting the 2022-2030 PNLG Strategic Action Plan (SAP). The PNLG SAP features key actions on strengthening governance and partnerships, implementation of management programs related to the four UN Sustainable Development Goals (SDGs 6, 11, 13, 14), and enhancing monitoring, evaluation and reporting.
In his welcome remarks, H.E. KUOCH Chamroeun, Governor of the Provincial Administration of Preah Sihanouk, Cambodia said, "We recognize the PNLG Forum as a platform for all coastal provinces and cities in the East Asian Seas, particularly PNLG network members, to share their knowledge, lessons learned, experiences, input, and new interventions resulting from their practices in development, recreation, and conservation of the marine environment and ocean toward sustainability."
"As a result, all local governments should join the PNLG family in order to be involved in the management, protection, and rehabilitation of the resources in our coastal, marine, and oceans in a sustainable manner for future generations," he added.
Dr. Vann Monyneath, Secretary General of the Cambodia Ministry of Environment and Co-Chair of the EAS Partnership Council said, "Thanks to the support of our PNLG members, we were able to achieve our targets set in the Da Nang Compact 2015, specifically the completion of a regional State of Oceans and Coasts report and 10 equivalent reports at the national level focusing on the blue economy. Likewise, we have scaled up our ICM efforts, which at present cover an estimated 40 percent of the region's coastline and contiguous watershed areas, which is well beyond the 25 percent target set by the Compact by 2021. We have also facilitated the formulation, adoption, and implementation of policies, action plans and programs on coastal, rivers, associated watershed areas, and ocean ecosystems."
Other highlights included the election of new PNLG officers (Dr. Le Quang Nam of Viet Nam as President and Mr. Ahmed Zaki Iskandar of Indonesia as Vice President); the induction of Busan, RO Korea as the new 55th PNLG member; and the announcement of Tangerang Regency of Indonesia as the local government host of the next PNLG Annual Forum in 2022.
MAIN CONFERENCE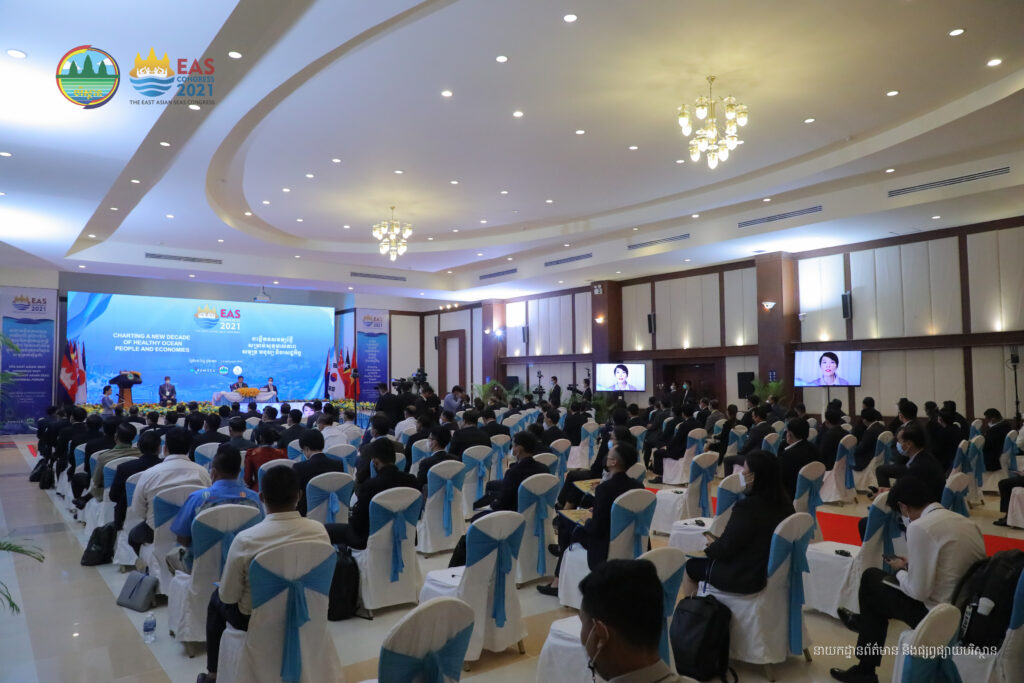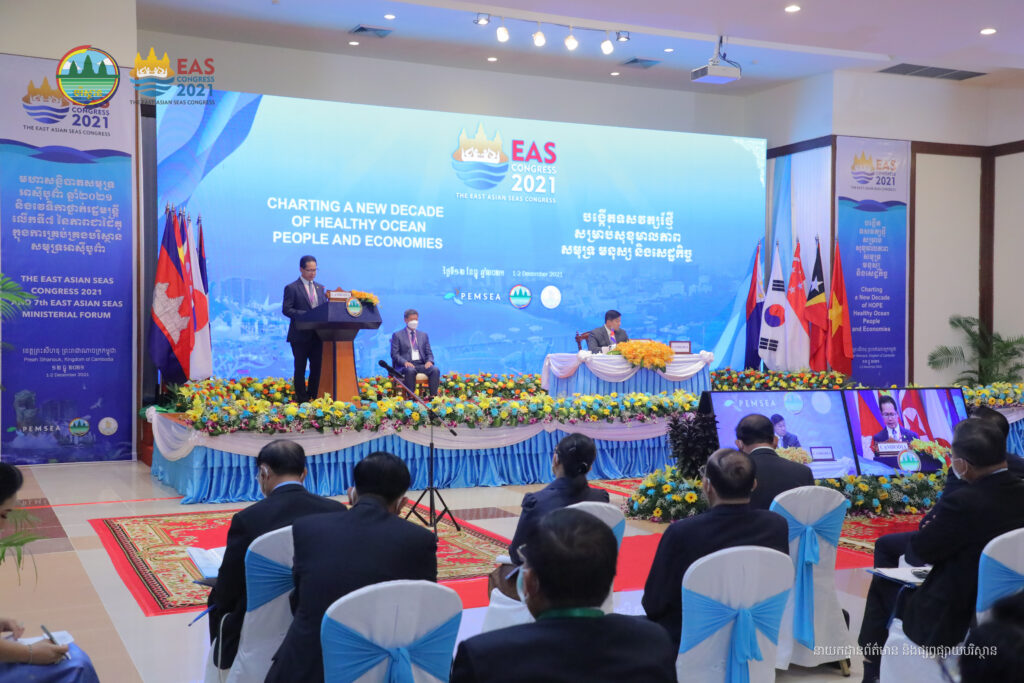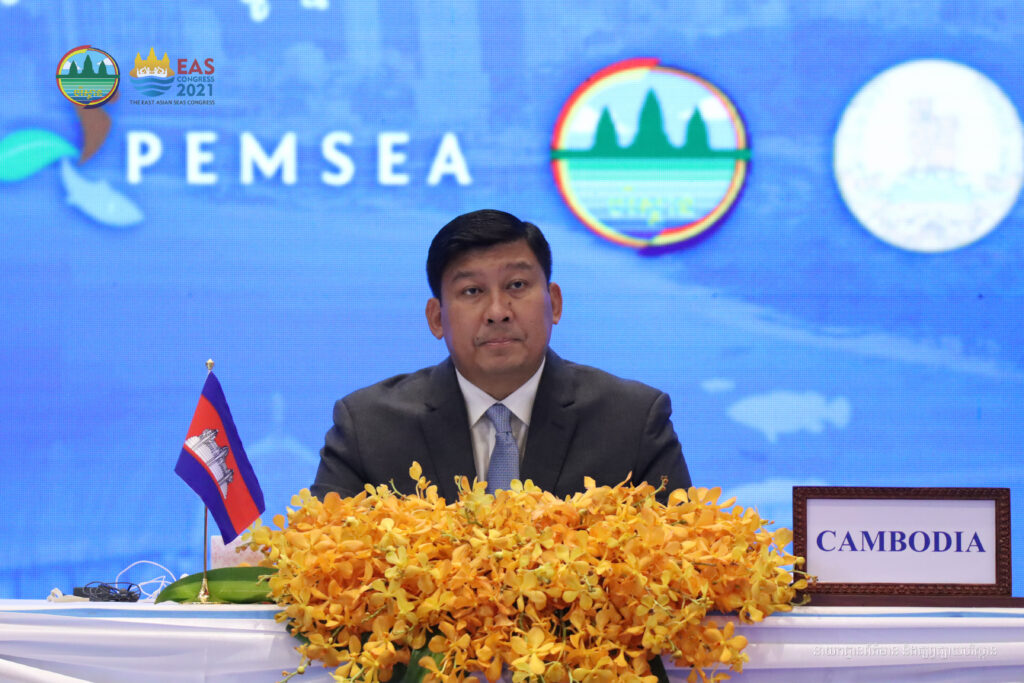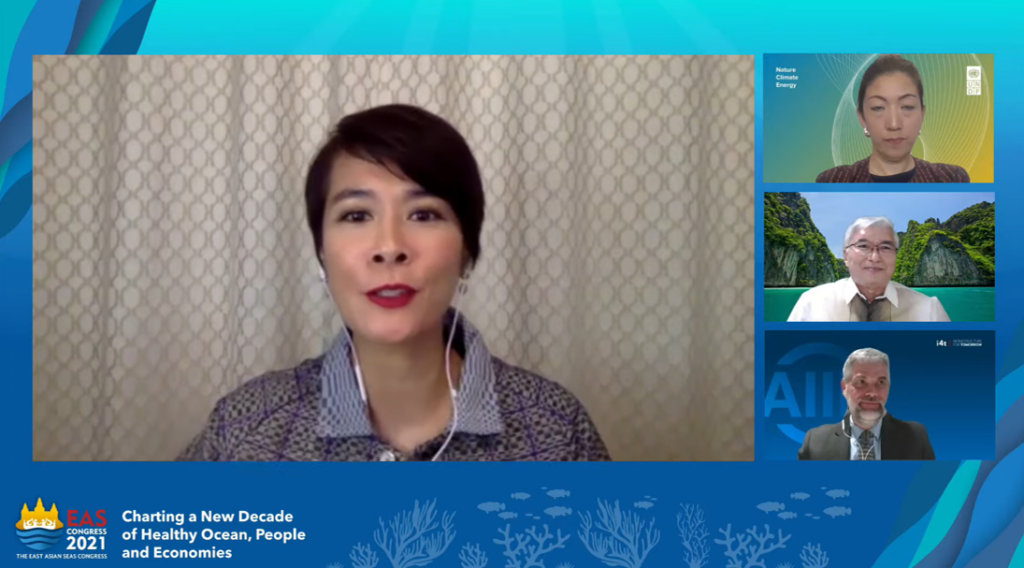 Senior government officials from Cambodia were in attendance including H.E. Eang Sophalleth, Secretary of State, who delivered the welcome remarks from the host country; while H.E. Kuoch Chamroeun, Governor of Preah Sihanouk, also welcomed the participants.  Overall EAS Congress Chair Minister Say Samal, Minister of Environment and Vice President of the Cambodia National Committee of Coastal Management and Development, delivered the keynote address. Mr. Arief Yuwono, EAS Partnership Council Chair, delivered remarks on behalf of PEMSEA.
In his opening remarks, H.E. Eang Sophalleth, Secretary of State of Cambodia, said "The last two years have been a challenging period for our region and the whole world, plunged into an unprecedented health crisis caused by the global outbreak of COVID-19. While this pandemic wreaked havoc to many lives and livelihoods, it has taught us many lessons. It makes us rethink and reset our relationship with nature. Overcoming the pandemic and striving to restore livelihoods and economic growth have been the top priority for all countries. We must work collaboratively in synergy to build back better."
In his keynote address, Minister Say Samal said, "The first thing I am pleased to emphasize here is the many achievements of our collaboration under PEMSEA mechanism. These have laid a strong foundation for moving forward our agenda to further ensure marine protection, sustainable livelihood of the people and sustainable blue economy, which is an important driver of growth; we need to build on these achievements." He added that "There is, therefore, the need for our PEMSEA to foster and sustain healthy and resilient coasts and oceans, communities and economies across the Seas of East Asia through integrated management solutions and partnerships. Through PEMSEA mechanism, we are in a good position to provide solutions for effective management of coasts and oceans across the shared seas of East Asia, as we have been doing over the past two decades."
The conference featured a plenary session focusing on the future of the coasts and ocean in the region with global experts and their respective presentations:
"Promoting sustainable coastal and ocean governance in the run- up to 2030" by Andrew Hudson, Head, Water and Ocean Governance Programme, United Nations Development Programme (UNDP);
"Harnessing private and public financing and investment to promote blue economy" by Sir Danny Alexander, Vice President for Policy and Strategy, Asian Infrastructure Investment Bank (AIIB); and
"Empowering young scientists and promoting innovation under the United Nations Decade of Ocean Science" by Gil Jacinto, Philippine National Focal Person for the Intergovernmental Oceanographic Commission.
A moderated discussion followed the presentations with Dr. Gil Jacinto; Dr. Akiko Yamamoto, Regional Team Leader for Nature, Climate and Energy, Bangkok Regional Hub, UNDP; and Mr. Frank Belitz, Principal Officer, Strategy and Policy Department, AIIB on the panel. PEMSEA Executive Director Aimee Gonzales also shared the conclusions and recommendations from the Plenary and knowledge sharing sessions held in the lead up to the EAS Congress.
PARTNERSHIP NIGHT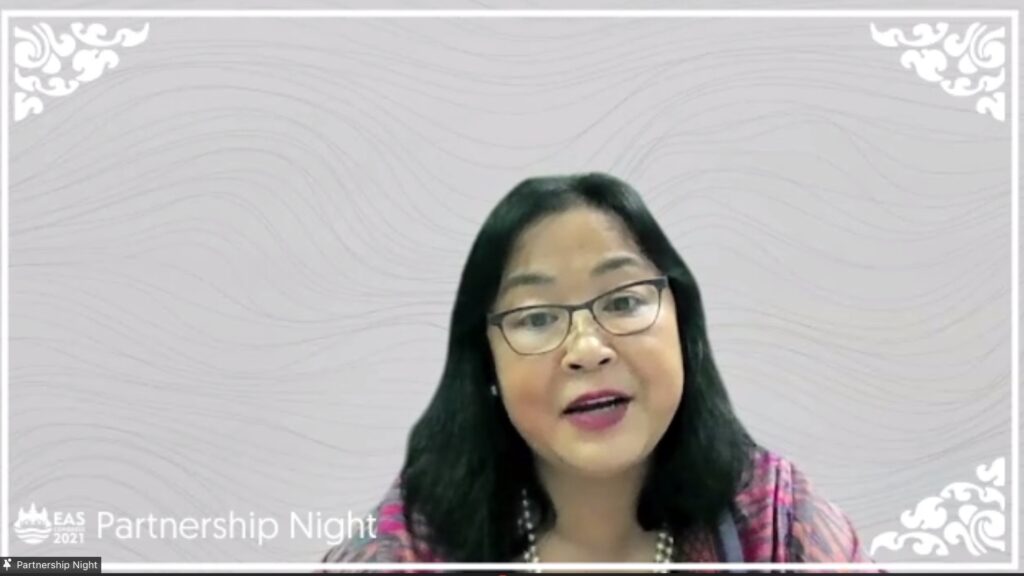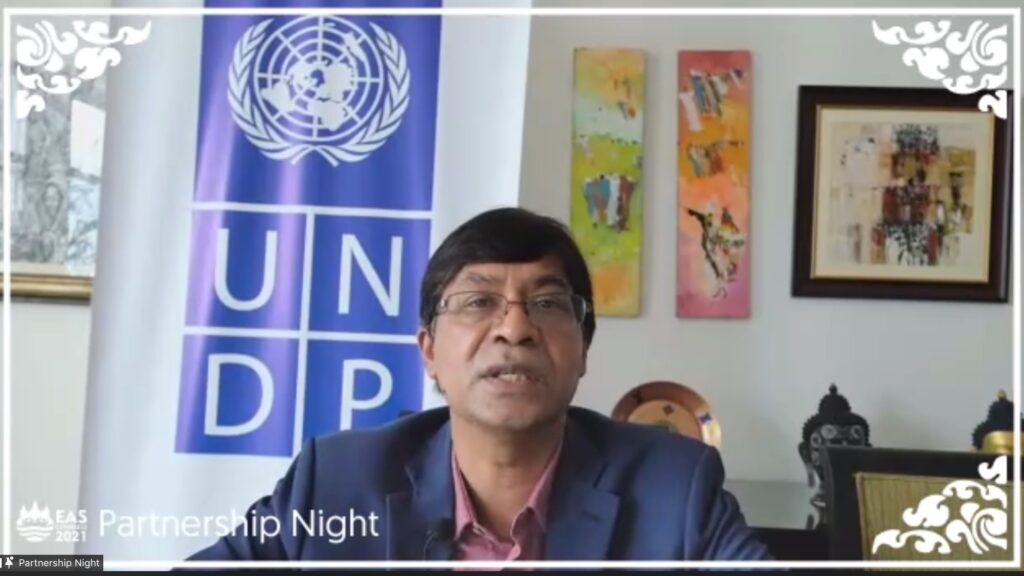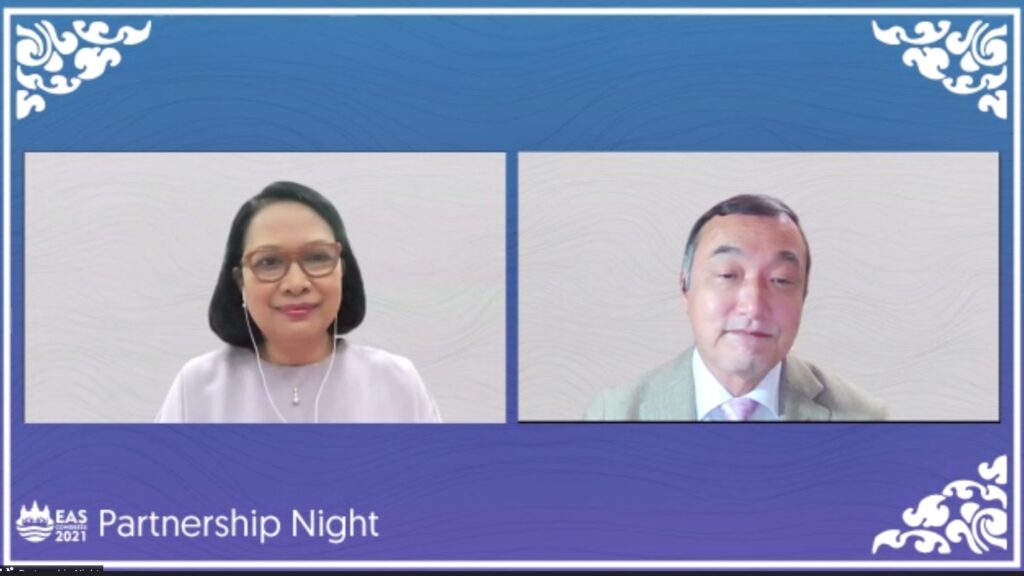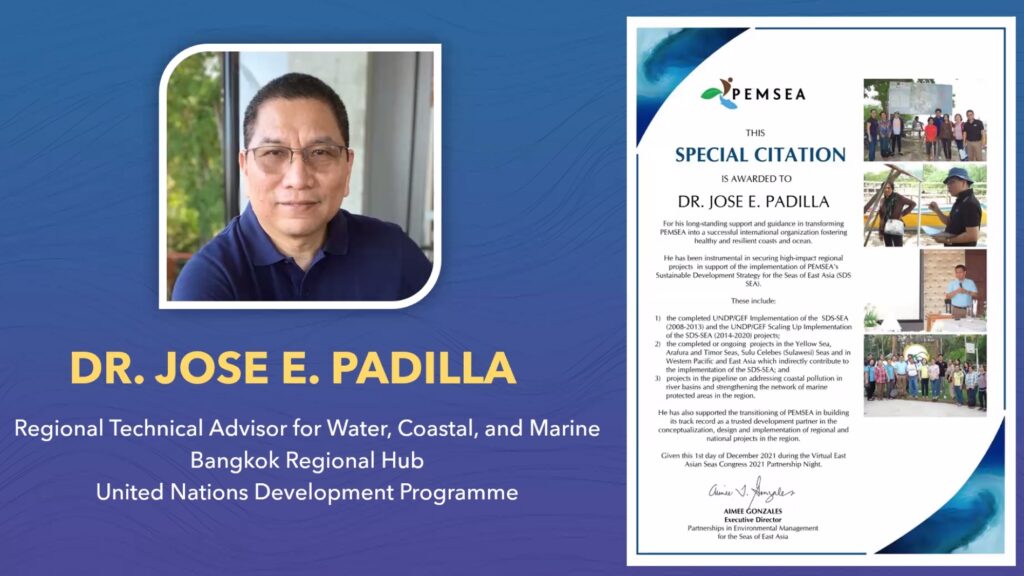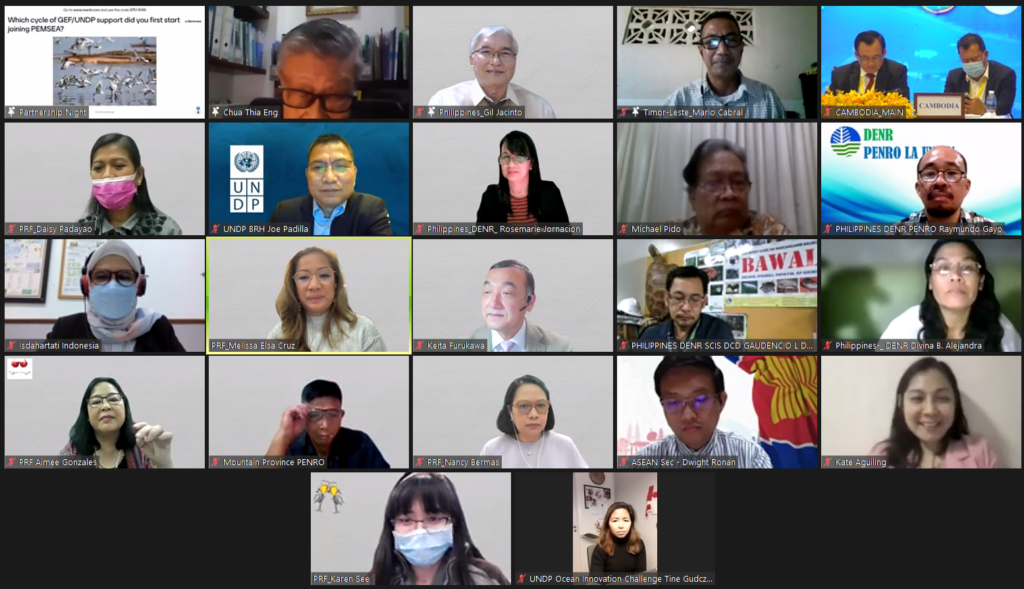 Capping the events on Day 1 was PEMSEA's Partnership Night, a fun and nostalgic homecoming segment featuring former and current partners, staff, sponsors and stakeholders. A key feature of the celebration was the launching of "SEA CHANGE: The PEMSEA Story," a coffee table book and online publication that chronicles PEMSEA's 28-year journey from its early days as a regional marine pollution project to becoming a regional coordinating mechanism for the implementation of the Sustainable Development Strategy for the Seas of East Asia (SDS-SEA).
Dr. Chua Thia-Eng, Chair Emeritus of the EAS Partnership Council, and Dr. Selva Ramachandran, Resident Representative, Philippine Country Office, United Nations Development Programme (UNDP) shared their thoughts on PEMSEA's contributions to the SDS-SEA and other global sustainability efforts.
Other event highlights included an Appreciation and Recognition ceremony for the many invaluable contributions of some of PEMSEA's long-time collaborators. Receiving the PEMSEA Special Citations Awards were Mr. Long Rithirak, PEMSEA's focal point in Cambodia and Deputy Director General of the Ministry of Environment and Dr. Jose Padilla for his role in assisting PEMSEA in helping secure regional multi-million projects such as the UNDP/GEF Scaling up the Implementation of the Sustainable Development Strategy for the Seas of East Asia (SDS-SEA) and the GEF/UNDP Arafura and Timor Seas Ecosystem Action Phase II (ATSEA-2).
A copy of The PEMSEA Story will be available for download starting December 1, 2021 at www.pemsea.org.
For more information on the 2021 EAS Congress, visit https://eascongress2021.pemsea.org/.
MEDIA CONTACT:
(Ms) Reggie U. Olalia
PEMSEA Communications Specialist
Email: rolalia@pemsea.org
(+63) 917-9028121